Peel & Stick Wallpaper….On The Ceiling!!
**This is a sponsored post, however all opinions and experiences contained within are my own.**
I have been working on a bedroom makeover project for our daughter's room.  And let me tell ya, developing a design plan for a 12 1/2 year old that would take into account her opinions (which change on the daily it seems haha) and encompass the feel of the antique Indian canopy bed we were going to be using was a process. (I picked this up at an auction last spring, read the deets here!)
Here's a shot of the bed when we picked it up at the antique shop after the auction.
I decided to go big on the ceiling and that meant checking out wallpaper murals I could have custom sized to fit.  I spent hours searching for just the right mural until I landed on one that I loved and when I showed my daughter SHE loved. It was a miracle!  (seriously she contradicted everything she said she wanted over the course of 2 weeks haha)
It was this gorgeous beauty from Sweet Pea Wall Designs and it was their Aqua Swirl Paint Wall Mural.  It has the perfect mix of deep tones with the pinks and mints that my daughter really wanted in her space.  And it would set the tone for the jewel box effect that I was looking for.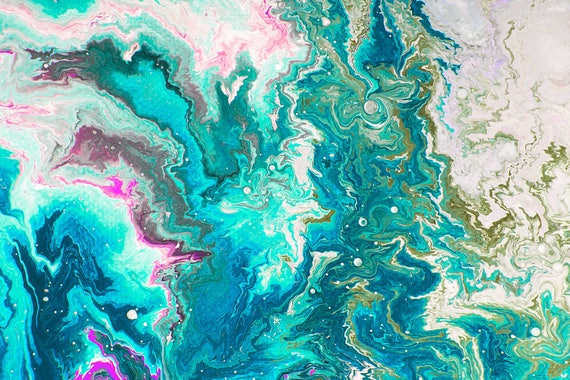 Aqua Swirl Paint Wall Mural from Sweet Pea Wall Designs
 We teamed up to make this room come to life!  Working with the folks from Sweet Pea has been such a great experience, they sent me a sample which really helped me to select a paint color and decide on the other elements needed in the space.
I sent them the dimensions of the ceiling and they custom printed it to fit perfectly!  While I waited for the mural to arrive I used the sample (a small scale mural) to decide on a paint color.  I wanted something that tied in with the mural, stood on it's own but was also a lovely backdrop for the heavy bed as well as the other jewel tones.
I ended up trying 3 colors, none of them were quite right.  So I decided to have Powder Blush by Benjamin Moore lowered in saturation by 25%. (You can do this at your local Home Depot too!  That's where I went and they can pull up the formula and alter it any way you want)
Next up was clearing out the old to get ready for the new.  Here's her bedroom before!
The walls are light gray and the ceiling is the original ugly builder brown.
Now that I had decided on the color (Powder Blush by BM 25% less saturation) we went ahead and painted in advance of getting the mural and installing it, don't want to get any paint on that beautiful piece!
We purposely painted an overlap at the ceiling, walls are never perfectly straight and we wanted to make sure it visually looked seamless. The wallpaper though, IS perfectly straight so given wonky walls, you might have a bit of edge where the wall meets the ceiling that is visible, if you paint it the same as the walls you will never notice it.
Here's the other big wall, it was the perfect subtle blush pink tone.
Just in time for the arrival of the mural!  Here is what it looked like when we got it in the mail.  Each strip was easily labelled, with very easy to understand instructions and 2 smoothing scrapers.
After laying it out we decided how I wanted the mural, the pink elements over the bed, so we started at the door (just in case we boobered up as we learned how to work with it).
We opened the first panel and with me at the wall and the hubs behind on a ladder, I lined up the panel with the edges of the walls and he would unroll/peel backing as I went and pressed it to the ceiling with the scrapers. It worked slick as all get out. 
We had this first strip completely up in about 15 minutes!  We left the little bit of overlap on just one wall, that way I would perfectly line up the one side of the room while overlapping a bit on the other.  This made it easier to trim the excess and have it perfectly straight. (I'll show you below)
Our strategy for the lights and various vent holes in the ceiling was to go over them with the paper.  After we got the entire strip applied we came back with a sharp utility knife and carefully trimmed out the hole. (Make sure you turn off all electrical to your room before you mess with any of this! My hubs almost electrocuted himself on the smoke alarm….apparently those are on a different circuit, oops!)
Here we are putting up another strip and you can see how we were working. I was lining up the edge and side while the hubs peeled and unrolled.
You DEFINITELY want 2 people working at this, once you find a rhythm it goes really fast!
Here we are at about the halfway mark.  It was SO satisfying and EASY!
Snuck a shot while he was putting vent covers back up…
Once we got all of the panels up we had an even amount of overlap on just one wall.  We went over it with the utility knife, gently cutting and peeling off the edge to get a straight line!
BA BAMMM!!  The finished ceiling.
This ENTIRE mural project took 2 1/2 hours!  And that is with 2: 15 minutes breaks (you know kids hollerin).  We were so happy with the ease of using this paper.
Here is a view from the door looking in….ahhhh I could stare at this ALL.DAY…..
Just lay here and look up right?!  Our daughter is beyond excited about it.
And here's looking at the other big wall with the windows. It just flows and gives so much pizzazz!
This is the edge I lined up on the wall with each individual panel, I think I did a pretty darn good job eh?!
Here's my sample piece with the big bad mac daddy on the ceiling.  Perfect rendition in colors and representation of the final mural.  I highly recommend Sweet Pea Wall Designs to you guys for any peel and stick needs, they have some VERY cool patterns and designs (I'm already eyeing up another eek!).
And they made it SO easy to install with the layout of the panels, the perfect size and the quality of the paper itself.
Which we were HIGHLY impressed with!  It felt more like a vinyl than a sticky paper and it had a little bit of give/stretch (stress a little, don't tug or it might tear) but enough that it allowed me to line up the strips perfectly if I got a smidge off. Not only that but we have textured ceilings and there is not one single issue with it staying adhered!
Seriously we are SO happy with it!!  If you are looking for a good quality peel and stick wallpaper make sure to check them out, Sweet Pea Wall Designs!
And make sure you stick around, the BIG reveal for this is coming up and I know you will want to see it….for reals, you wanna, cause it turned out amazeballs!
What do you think?  Would you do something this bold on a ceiling?  Have you ever wallpapered a ceiling?  I always love to hear from ya so hit me up in the comments or shoot me an email.
And don't forget to subscribe, so you won't miss a single thing!
XXXX&OOOO
The post Peel & Stick Wallpaper….On The Ceiling!! appeared first on Eclectic Twist.